Structural Steel Detailing Service
As obvious as it can get, Structural Steel Detailing is one of the serious processes of structural engineering. When it comes to different types of construction and manufacturing activities, structural steel detailing turns out to be an important process. In this context, even the smallest error can result in a massive loss of money as well as the time, hence, it requires almost 99% accurateness.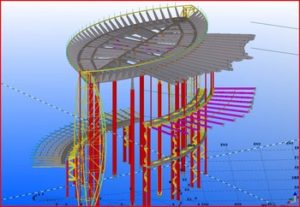 Keeping this in mind, Matzen Solutions provide superior and qualitative services of structural steel detailing. Here, we understand the vital role of the detailing process in connecting professionals like architects, engineers, fabricators, contractors and more with an individual in-charge of a project.
As a result, we leave no stone unturned in providing the best of results. At Matzen, we have crafted a talented team that comprises chosen, skilled, and experienced detailers, who have been catering to different kinds of requirements over the years. With this ingenious team beside and latest software in hand, not just we take care of residential projects but commercial as well.
Since steel detailing comprises detailed shop drawing creation for contractors and fabricators, we ensure that the cost estimate, profound plans, relevant reports, and other essential tasks are listed in a legible manner. In this way, we make sure that the chances of mistakes are significantly less.
Structural Steel Detailing Service Process:
When it comes to defining phases of a structure and executing the construction for the same, the process can become a bit complex. Its prerequisites include effective planning and drawing. For this, our skilled team is always ready. Right from the parts and steel gathering to handrails, our team utilizes several effective software to provide structural steel detailing seamlessly.
Our well-versed team is proficient in detailing different structural elements, such as metal decking, steel columns, erection layouts, and more. While detailing, our intention remains to make the estimation and generation processes easier for the fabricator.
Why Should You Take Steel Detailing Services?
At Matzen Solutions, we provide steel detailing services to different domains and sectors all across the world. Our employees are not just competent in their work but also hold noteworthy records in civil and structural engineering. Furthermore, they are even armed with profound technical experience and massive structural steel detailing expertise. They hold professional skills in designing, detailing, as well as drafting.
Our structural design team is not only proficient in analyzing issues that may occur in a complex design but can also provide the best solutions, leaving a significant impact on the project. Our experience, expertise, and knowledge have been spread across several sectors, like civil engineering, architect, electrical engineering, structural engineering, plumbing or mechanical design, and more. We have even covered several materials of construction, including concrete and steel.
Our co-operative processes, work culture, and internal systems help us deliver precise, consistent, and timely services, which in turn, boosts our competitive nature.
We even adhere to the basic regulatory standards of the industry when it comes to providing structural steel detailing services. Hence, from our end, you can expect nothing but the best.
Looking help in your current or next project?
We believe in creating long lasting relationships with our customers by offering 100% satisfaction.